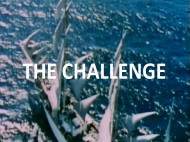 by Cyril Abraham.
Description by Viv Dodd.

Elizabeth returns from Paris on the same Callon ship as Daniel Fogarty and Emma Callon observes her. Daniel dismisses Emma's jealousy and uses it to his advantage when he says that she should name the day for their marriage.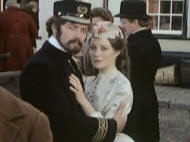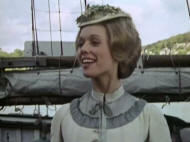 Anne has been ill and the doctor tells her that she must not conceive.
James is in Zanzibar on the Osborne negotiating trade with a local sheikh.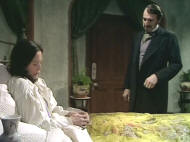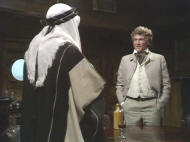 Mr. Mitchell, a tea merchant, wants to sell his Onedin steamship shares but Robert urges him to wait for James' return; as does Elizabeth, when Mitchell offers Albert 5,000 shares for £10,000 but he says he will now go to Fogarty. The keel of the Golden Nugget is being laid at Frazer's yard.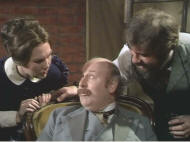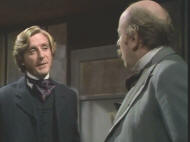 James receives a telegram from Robert, telling him of the available shares and he realizes that he must return home quickly. James makes a deal with the sheikh to carry pilgrims to `Mecca' in return for a trade agreement and cargo of cotton. He will take the pilgrims and return home via the Suez canal.
Capt Webster is becoming suspicious that Anne's illness is more serious than she is admitting - she is taking laudanum for the pain and says she will get James to agree a regular income for her father, so that he will be taken care of. James voyage is too slow and he is suspicious that the ` pilgrims' are not what they are supposed to be. James decides that he will not follow the sheikh's orders, realizing that he is dealing with slaves, and puts the sheikh and them ashore to gain their freedom.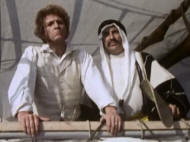 Robert and Sarah join Capt Baines on a trip to the Isle of Man to escape happenings at home but Robert is a nuisance on board and thwarts Baines purchase of a cargo of `manx muttons'.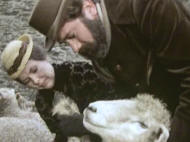 Fogarty and Emma marry and he refits a ship called the Pandora for their honeymoon voyage.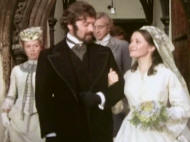 Anne is returning from their wedding when James docks. `So Fogarty is now Callon and Company' he says.
James attends a meeting with Mitchell and Fogarty but refuses to make an offer for the shares. He proposes a race to be the first to return to Liverpool with 500 tonnes of China tea from Foochow for Mitchell. In return the winner will purchase his Onedin shares at their original price.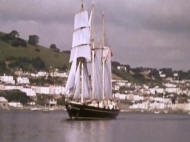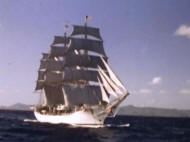 Anne insists on sailing with James aboard the Osborne and as they set sail James says `Well, the race is on. Not the usual race for us Anne. Much more at stake this time, eh?' Anne clasps her stomach in pain.