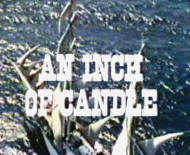 Episode description by:
Viv Dodd
One of my favourite programmes as James comes to realize at the end that Anne is more important than another ship.

Making passage home, James and Baines find an abandoned schooner adrift and despite Baines' poor opinion of her, James is intrigued by the mystery of the abandoned Maria da Gloria. James boards the ship, jettisons the spoiled cargo
of sugar and takes her in tow to Ireland.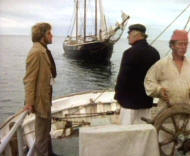 Meanwhile, Anne is carrying coal up steps in their 'infernal basement' home whilst Elizabeth tuts at James' inconsiderate treatment of her. Anne feels queasy and says 'It's just a touch of sickness that comes over me at times'

'Sickness?' retorts Elizabeth and they stare at one another as Anne says ' Well haven't you ever……. Oh no, it couldn't be that'.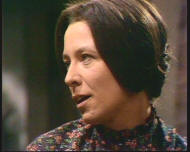 Robert also is accidentally told of Anne's condition by Elizabeth when he shows concern for her as she bursts into tears for no apparent reason but ambitious Sarah is concerned at the news because if James has a son, he'll inherit the
Onedin Line, not their Samuel.
Anne goes to greet James on the Charlotte Rhodes and he excitedly tells her his news of the ship that he can make money from one way or another.
'James I'm having a baby' Anne finally blurts out. 'What did ya say?' 'I'm with child'
'Why didn't ya say so?'
'I've been trying to but you didn't give me the room to get a word in edgeways'
'You sure?' James needs confirmation. ' I wasn't at first. I couldn't believe it but I'm sure now. James … is it good news?' Anne asks hesitantly. 'Good news – its wonderful news – most wonderful news I've heard in all my life'.

James is close to having the money to buy back enough shares to be in control of the Onedin Line again but Elizabeth pesters him to get Anne out of the basement into a proper house. Robert arrives with news of the auction for the Maria da
Gloria in Roscarberry. The insurers own it as no named owner can be traced and they appear to want a quick sale. James believes she is undervalued and he, Robert and Anne (who insists she go) decide to take a steamer to Roscarberry.

Anne feels unwell on the journey and James says 'you're never seasick – it's the baby. Should have stayed at home – I told you'.

In Ireland they inspect the ship and meet Mr Sankey from the insurers who is disparaging about her qualities and value. James is uneasy about what is being done with the ship and leaves Anne in bed that night to look over her again. He finds evidence that she was a 'slaver' whose owners would not have registered her to avoid discovery of the illegal trade and he tells Anne and Robert the next day
'Hang the salvage award – I'd rather have the ship. For five hundred pounds she'd be an absolute bargain. On the fruit run from the Azores, she'd beat everybody home'.
Anne says, 'but I thought the five hundred pounds was for a house'.
James replies 'oh Anne we can always get a house'.

Daniel Fogarty is in league with the insurers and would buy the ship as cheaply as possible if no one else were interested – it would also do James out of a fair price for salvage. Emma Callon is dispatched to visit Anne and James on the
pretext of asking after her condition but James is now convinced that there is some underhand dealings with Fogarty and the ship.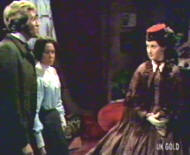 'Anne, if it should be necessary to find more than £500 would you begrudge the expenditure?'
Anne asks ' how could you raise the money?' 'Sell some of the shares' 'Couldn't you sell a few more and we could have a house as well?' Anne.
James, 'Be a year before the Maria da Gloria made enough profit to buy back the shares'
Anne, 'And a house couldn't make any profit to buy them back'.
'You would begrudge it me eh?'

James makes it appear to Fogarty, Anne and everyone else that he has no interest in the ship and James prepares to sail with Capt Baines who makes sure Fogarty knows of the voyage. James says ' Anne that ship could be the way back for
us'. Anne, ' another ship, another gamble ? Oh I'm sorry, I just feel so weary'. Then she is told that James had already decided to attend the auction in Ireland – he was never to sail with Capt Baines. However, Anne is philosophical
as she tells Elizabeth ' I married James for security but I love him for the lack of it'.
The auction is one where bidding happens whilst an inch of candle burns and the last bid before the candle extinguishes is the winner. James and \Fogarty go head to head. James bids two thousand and eight hundred pounds as the candle
dies.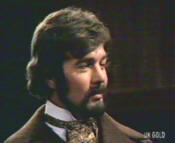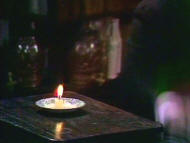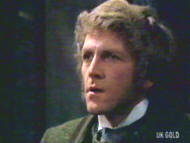 And meanwhile, carrying coal for the range, induces Anne to miscarry. James returns home and is telling his tale to Robert, emphasizing that the cost of the bid would be offset by the one thousand pound salvage money due to him when he realizes Capt Webster and Elizabeth are there also to tell him the news of Anne. He rushes to her bed and she asks 'Did we get the schooner?'
James answers huskily 'yeah'
'Good, its what we need'. But James shakes his head as he grasps Anne in his arms.